[vc_row][vc_column][vc_column_text]
cromalaminate
Welcome to Cromalaminate, an elegant collection of decorative surface. It is our pleasure to introduce a hallmark name that is synonymous with beauty, design and attitude of refined craftsmanship. Inspired by arts and crafts of other times, CROMA has created an exceptional product portfolio that deftly blends traditional and contemporary styles into a transitional collection that is classically proportioned, clean lined and timeless
Why chose cromalam?
Beautiful Styles
Out standing Durability
Easy Installation
Texture Laminates
High Gloss laminates
Acrylic Finish laminates
Smooth finish laminates
Metalic Finish laminates
Veneer Finish laminates
Wood Finish Laminates
  Cromalaminate Certification

The Singapore Green Label is a seal of endorsement on it environmentally friendly claims to prevent the abuse of green-washing. This has proved to be advantageous for Green Label certified products that have become more marketable and readily accepted by consumers or businesses when making a purchase.

The Indian Green Building Council(IGBC), part of the Confederation of Indian Industry (CII) was formed in the year 2001.The vision of the council is, "To enable a sustainable built environment for all and facilitate India to be one of the global leaders in the sustainable built environment by 2025"

Power Brands is a status offered only to the most powerful brands in their respective areas of operation based upon a nationwide extremely comprehensive research. Companies that have carved a niche' for themselves in their respective industries through repeatedly out shining their competitors elevate themselves to being given the status of Power Brands.

ISO 9001:2008 is an international standard related to quality management system, applicable to any organization from all types of business sectors and activities.
ISO 9001:2008 is based on eight quality management principles (all fundamental to good business practice).When fully adopted, these principles can help improve your organizational performance.

ISO 14001:2004 specifies requirements for an environmental management system to enable an organization to develop and implement a policy and objectives which take into account legal requirements and other requirements to which the organization subscribes, and information about significant environmental performance criteria.

CE Marking "Conformite Europeene" on a product is a manufacturer's declaration that the product complies with the essential requirements of the relevant European health, safety and environmental protection legislation.
Cromalaminate
cromalam comes in many sizes as well as in many colors that the reason why the cromalam is very well known in the market and widely used by carpenters as well as by interior decorators
cromalam is used for commercial purpose as well as interior perpouse it is one of the best choice of architects because of its quality as well as durability
Cromalaminate Ecatalogue
Download the cromalam ecatlogue or cheek it on line
Croma Decorative Laminates
IN A WORLD OF UNENDING POSSIBILITIES IN LAMINATES
Croma Decorative Laminates brings you elegance in its purest form. In a world of unending design possiblities in laminates,Cromalaminate strikes the perfect imagination that one seeks to dress up liuing bedecked with Croma Decorative Laminates.

36 Products
Filter :
Product Finish
American Walnut(0)
Diamond Core(0)
Fine Leather(0)
Fingure Line(0)
Glitter(0)
Gloss Finish(1)
Graffit Net(0)
Magic Guard(0)
Matt Finish(2)
Mattlic(1)
Moving Eye(0)
Retro(0)
Revolution(0)
Squibble(0)
Stylo Bricks(0)
Suede Finish(32)
Wave Ash(0)
Wave Flower(0)
X – Stitch(0)
Zadco(0)
Product Color type
Dark(11)
Light(15)
Medium(9)
BWR PLYWOOD (IS-303)
Veneers from high quality logs are
mechanically dried and they undergo stress relieving process, which are
assembled in such a way to form a balanced construction. High quality
fortified synthetic resins are used for gluing the veneers. Glue line is
poisoned by special formulations of chemicals to make Virgo Plywood
safe against borers. It is hot pressed under proper temperature and more
than 16 Kg/cm2 specific pressure. Conditioning is done after pressing,
followed by preservative treatment.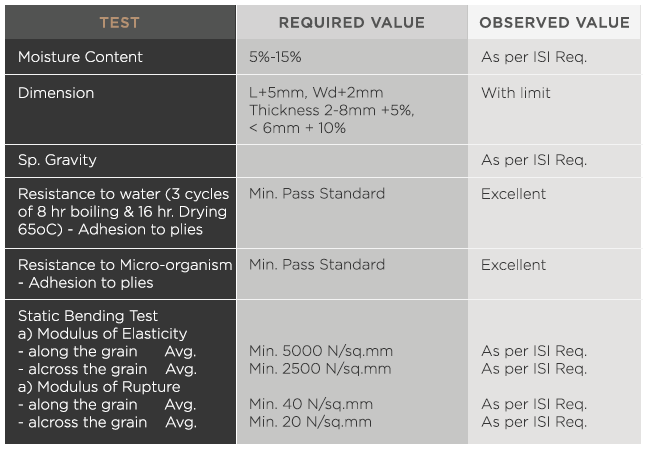 Applications
Partition and paneling, ceilings in public rooms and corridors, floor underlayment, computer rooms, furniture, bus bodies, railway coaches, milk booths, sign boards, insert in panel doors, storage racks.
Block Board
These are made out of excellent quality of Plantation Timbers. Logs are quarter sawn into Planks using SDR method, which are chemically treated and well seasoned before converting into battens in a multiple ripsaw. Battens are sandwiched between two glued mechanically dried veneers and are pressed in hot press under accurate temperature and pressure. Quarter sawing of logs and proper seasoning of planks make it dimensionally stable and treatment of planks, poisoning of glue line and preservative treatment of finished block board make Virgo durable and safe against borers.
Applications
Cabinets, Almirahs and other furniture, Door Partitions, Shelves and other interior applications; Roofing, Fencing, and other external applications.
shuttering plywood
Virgo offers a high quality Shuttering IS
: 4990, Concrete Shuttering Plywood. It is a multi functional product,
which can be used in construction industry for buildings, bridges, heavy
industry and structures etc. for use on walls, slabs, columns and beams
etc. In Virgo Concrete Shuttering Plywood, compression is about 60%
more as compared to ordinary Film Face Shuttering plywood available in
market. Extra compression leads to better nailing and screw holding
properties. Its load bearing capacity is also enhanced due to extra
compression. It is manufactured by selecting quality veneers impregnated
with modified RPF resin for longer life and better performance in all
applications. Impregnation of resin in veneers is more than 30% to the
weight of veneers.
[/vc_column_text][/vc_column][/vc_row][vc_section][vc_row][vc_column][vc_gallery interval="3″ images="3534,3544,3537,3547,3523,3982,3987″][/vc_column][/vc_row][vc_row][vc_column][vc_posts_slider count="3″ interval="3″ posttypes="product"][/vc_column][/vc_row][/vc_section]